Write us if you any questions?
We don't share your details with anyone, Privacy Policy
Recent Visa Approval
AUSTRALIA VISA SUCCESS

Excellent team of IELTS Trainers and Visa Consultants. No need to go anywhere for IELTS and Visa Services in Ambala. Expert is the Best !!
Sumit Bhardwaj
Why Study in New Zealand?
New Zealand is one of the world's best places to live and study. New Zealand is the world's second most peaceful country with lowest rates of corruption. New Zealanders are welcoming, friendly and respectful to other cultures.
The country's qualifications are recognized and respected globally.
The universities are in the top 3% in the world.
Auckland is among the world's top 10 livable cities.
Students can work 20 hours per week during studies and full time during summer vacations.
The country provides one-year open job search visa after studies to international students.
PHD Students pay the same tuition fees as New Zealanders and can also work full-time while studying.
Universities & Colleges Map:
Institutions are mainly categorized as Universities, Polytechnic Colleges & Private Colleges in New Zealand.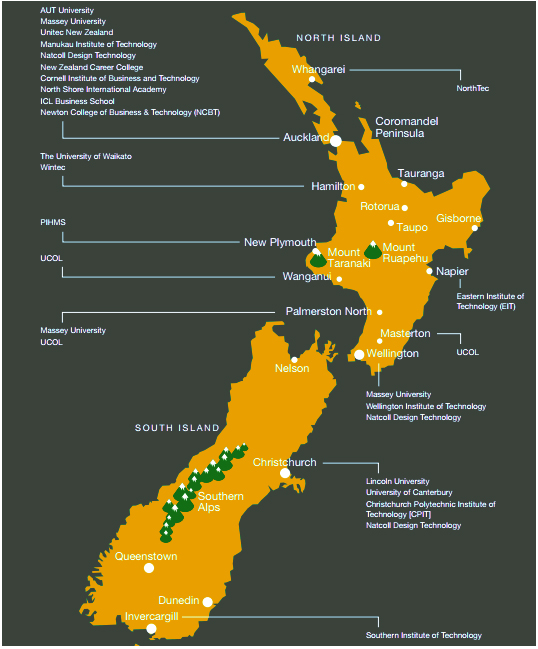 Qualification Framework: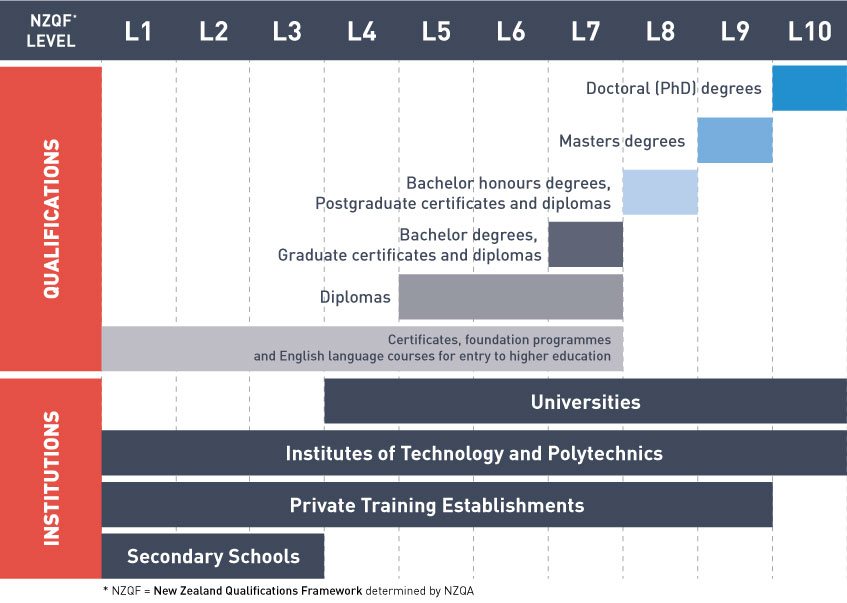 Cost of Education in New Zealand:
| Qualifications | Fee(In AUD/year) |
| --- | --- |
| Schooling | $15,000 to $20,000 |
| Certificates I to IV, Diploma and Advanced Diploma | $16,000 to $24,000 |
| Undergraduate Bachelor Degree | $18,000 to $24,000 |
| Graduate or Postgraduate Diploma | $18,000 to $24,000 |
| Master Degree | $20,000 to $40,000 |
The living cost in New Zealand is approx. $15,000 per year
Popular Courses in New Zealand:
Accounting, Animation, Business, Computing, Cookery, Early Childhood Education, Engineering, Health, Hospitality, Horticulture, Management, Nursing, Social Work, IT, Trade courses etc.
New Zealand Study Visa Process:
Offer of place is obtained from an NZ education provider.
Applicant prepares for Visa application which includes Arranging financial documents, Medical Examination & Police Clearance Certificate.
Complete visa application is submitted to Immigration New Zealand.
Immigration New Zealand interviews the applicant and verifies financial documents after the application.
Approval in Principal received from Immigration New Zealand which generally requires the payment of 1-year tuition fee, living cost and submitting any pending document within 10 working days
Student visa gets issued by Immigration New Zealand.