Write us if you any questions?
We don't share your details with anyone, Privacy Policy
Recent Visa Approval
AUSTRALIA VISA SUCCESS

Excellent team of IELTS Trainers and Visa Consultants. No need to go anywhere for IELTS and Visa Services in Ambala. Expert is the Best !!
Sumit Bhardwaj
About Germany
Germany consists of 16 States & the capital andlargestcity is Berlin.
Population of Germany is 81,726,000 and it is the fifth largest economy in the world and Europe's largest.
It is a leading exporter of machinery, vehicles, chemicals, and household equipment and benefits from a highly skilled labor force.
Germanistheofficialandpredominant spoken language in Germany.
Euro is the official currency of Germany.
Free education or extremely low cost of education.
Quality Education.
Good Job Prospects.
Post study work VISA of 18 months.
Free Education
Approx. 500 EUR as social contribution per semester with no tuition fees.
Scholarships
As there is no tuition fee or a nominal tuition fee, Universities do not provide any scholarships.
Quality of Education
Most of the Universities or colleges are state owned and Government funded.
Education in Germany is one of the oldest and best in the world.
Merit is the only criteria for admission.
German Education guarantees practical knowledge in addition to solid theoretical foundation.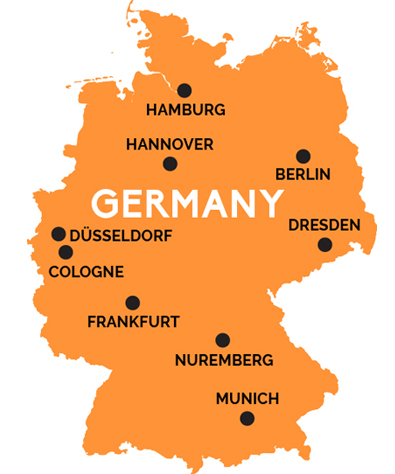 Part Time work/Student Jobs in Germany
International students are allowed to work for 120 full working days or 240 half working days in a year.
Typically the student wages range from 2 to 10 Euros an hour. Students can work on campus or outside the campus.
Students with German language skills are entitled for higher wages as compared to the students having no skills.
Job Prospects in Germany
Germany is home to many of the Fortune 500 companies like Volkswagen, Audi AG, BMW, Bentley Motors Limited, Škoda Auto, Siemens etc.
The German economy is Europe's strongest. It is the European leader in terms of growth, Employment and export.
Non-EU students are allowed to stay up to 1.5 years after the completion of the study To search for a job.
Indefinite right of residence to graduates after 4 years of working in Germany.
Germanistheofficialandpredominant spoken language in Germany.
Euro is the official currency of Germany.
Free education or extremely low cost of education.
Quality Education.
Good Job Prospects.
Post study work VISA of 18 months.
Types of Higher Education Institutions
There are 500 officially recognized institutions of higher education in 165 towns and cities throughout Germany.
Universities in Germany are categorized into two groups :
Technical University/Universitat
Universities of Applied Sciences/ Fachhochschule
Technical University/Universitat
Degrees offered includes Bachelors, Masters & Doctorate.
Research plays an integral part of the study.
Faculties include Education, Engineering and Science, Law, Medicine, Social & Cultural Sciences, Business Management.
University of Applied Sciences / Fachochschule
More practical oriented.
Offers Bachelors programs in general.
Some institutions also offer Masters Program.
Though research is gaining importance but the focus remains at application oriented study.
Excellent job opportunities owing to close tie up with industry.
Intakes & Deadlines
Two Intakes:
Winter – September / October
Summer – March/ April
Deadlines for Applications:
Winter – Starts from 15th December to 31st March
Summer – Starts from 15th August to 15th January
Entry Requirements for Masters in Germany
Medium of Instruction– English Taught as well as German Taught.
German Language – May not always be a criterion for admission but it is better to achieve a basic level of German language A1 or A2as more and more universities are expecting at least A1 level proficiency apart from it being a requirement for Visa as well. It is noted that candidates with German language skills have a better chance of getting admission in German universities as compared to candidates with no German language skills.
Three ways to prove the language ability is through

DSH – German Language test for foreign students.
Test Daf – Central, standardized test for German as a foreign language.
ZOP of Goethe Institute.

Minimum IELTS score – 6.5+ or Minimum TOEFL score – 87.
Academic percentage – above 70% is required.
GRE is needed for good and high ranked Universities – 307+ is considered as a good score. GRE is a mandatory requirement for some Automobile and Mechanical courses by good ranked Universities.
German Language Levels
Test Locations
Goethe Institute/Max Muller Bhavans are at major cities like Ahmedabad, Bangalore, Chandigarh, Chennai, Coimbatore, Hyderabad, Kolkata, Mumbai, New Delhi, Pune and Trivandrum.
Test Dates and Fees
Test dates and Fees are subject to changes and can be found online – www.testdaf.de www.goethe.de
Entry requirements for Masters
There is no concept of applying without IELTS or without final year mark sheet in most of the universities. It is recommended to apply once the student is ready with all the documents, including IELTS score card and Provisional Degree Certificate.
Universities do not issue Conditional Offer Letters to the students.
For courses like Mechanical Engineering and Automotive Engineering, candidate must have very good academics like 70% plus in Bachelors and a GRE score as well, as these are highly competitive courses.
13 years of education are required for entry in a Bachelors program in Germany.
This can be achieved by successfully completing the first year of a Bachelors program from a recognized university in India in the relevant subject field. OR
Successfully completing a Foundation year at a university in Germany to compensate for the 13th year of education.
Duration & Tuition Fees in Germany
Usually the Masters course is of 2 years and the Bachelors course is for 3 years.
Generally no tuition fees in most Universities yet some institutions do charge a nominal amount of around 200 to 500 Euros/semester whichare termed as social contribution.
For example, fees for 2 years will be 500 Euros * 4 Semesters = 2000 Euros Indian Rupees equivalent= 2000 Euros * Rs. 75 = Rs.1,50,000 for a complete Masters excluding living and accommodation costs.
Popular German Institutions
Hochschule Bremen – International Graduate Center – Bremen
GISMA Business School – Hanover
International Academy of Students – Schwerin
Accadis Hochschule Bad Homburg (AHBH) – Homburg
International University of Applied Sciences (IUBH) – Berlin and Bad Honnef
New European College GmBH – Munich
Cologne Business School – Cologne
International School of Management – University of Applied Sciences – Dortmund
Eurasia Institute for International Education (EIIE) – Berlin
EU Business School – Munich
Schiller International University, SIU – Heidelberg
Halmstad University, Halmstad, Swedenand Hochschule Ostwestfalen – Lippe, Germany
Germany Student Visa
A student visa is required by Indian students who wish to pursuehigher education in Germany and have secured admission in a Germancollege or University.
Applicants should apply for the visa in person at least 3 months prior to departure. The visa processing may take 6 – 12 weeks.
The Consulate General of the Federal Republic of Germany in Mumbaican only accept the visa applications from persons residing inMaharashtra, Gujarat, Goa, Madhya Pradesh, Chhattisgarh, Daman and Diu.
The Consulate General of the Federal Republic of Germany in Chennaiaccepts the visa application fromthestatesofAndhraPradesh,TamilNadu and Pondicherry.
The Consulate General of the Federal Republic of Germany inBangalore accepts the visa application from the states of Karnataka& Kerala.
The Consulate General of the Federal Republic of Germany in Kolkataaccepts the visa application from the states of West Bengal, Bihar,Jharkhand, Odisha, Assam, Arunachal Pradesh, Manipur, Meghalaya,Mizoram, Nagaland and Tripura.
The Delhi Embassy's area of consular jurisdiction covers the statesof Haryana, Himachal Pradesh, Jammu and Kashmir, Punjab, Rajasthan,Sikkim, Uttar Pradesh, Uttarakhand and the Union Territories ofChandigarh, Delhi, Andaman and Nicobar and Lakshadweep Islands.
There is a VISA fee of 60 Euros (Rs.4, 600) at present (subject to change) to be submitted through Demand Draft at the time of VISA interview. VFS charges Rs. 844 payable once approval is received and passport is submitted at VFS center for stamping.
Students have to open a blocked account (called "Sperrkonto") in Germany in the name of the applicant and deposit Euros 8640. Once in Germany the student will receive the amount back in 12 equal installments of Euros 720 to cover Living costs.
Note: It is advisable to deposit an additional amount of 150 Euros in the blocked account to make sure that the amount standing in account is 8640 EUR after deduction of bank charges. If the balance in blocked account is below 8640 EUR due to any reason, German Consulate will not accept VISA Application.
Procedure to open a Blocked Account:
Download the document "Opening a bank account/blocked account forforeign students" (or similar wording) from the bank's website.
Fill in the form, but do not sign the form.
Proceed to the German Embassy and present the following documents:
Original and copy of passport
Copy of certificate of enrolment at German university and / ororiginal certificate of enrolment at German university (originalpreferred)
Application for the German blocked account (the application student downloaded) for certification by the Embassy.
The certified documents can be collected on the day and time as instructed by the Embassy.
At the time of collection student will have to sign the applicationform for the blocked account in front of the officer in charge.
How to Get Germany Student Visa?
Open an account in the Deutsche Bank from India as soon as the student receives the offer letter
After opening BlockedAccount deposit 8640 EUR + 150 EUR bank charges in Deutsche Bank
Take Appointment through email or call for Consulate VISA Interview
Fill up the VISA application form and arrange other documents as per VISA checklist
Attend the VISA Interview on Appointment Date
Submit passport at VFS for VISA Stamping after receipt of Confirmation Emailby Consulate
VISA issued
Documents Required for the Application to Institutions
Passport copy.
Marks Sheets of 10th and 12thand Bachelors.
Degree Certificate.
Recommendation letter from HOD & Project Guide in sealed & attested covers.
Statement of Purpose.
TOEFL / IELTS score.
GRE score card (Not mandatory). Most of the Mechanical/Automobile Programs require GRE.
Resume.
German Proficiency Certificate.
Project Synopsis (If any).
Work Experience (If any).
Documents Required for German Student Visa
Below mentioned documents are required for a Student Visa Application:
VISA Application Forms.
Passport.
3 passport sized photographs with 45mm height and 35mm width.
Demand draft of visa fees Euros 60 (Rs 4,600/- approx.) issued in favor of respective German Consulate General.
Letter of Admission.
Mark sheets and certificates.
Proof of English Language proficiency.
Proof of German Language proficiency (at least A1 level).
Account opening letter with required funds from Deutsche Bank .
Valid Health Insurance for a sum coverage of minimum 30000 EUR for a period of 3 months from an approved Insurer.
Please Note: – Applicants are requested to prepare 2 sets ofthe above mentioned documents along with their photocopies. Additionaldocuments may have to be presented, if required.
There would be a brief interview of the student by an officer at the consulate to assess the genuineness of the student.
Also Read:-